Guard your heart, my child!
As a Christian mother, I lay awake, night after night, asking God for wisdom to guide me in leading my tween child as he grows.
I thought a mother could only wish and pray her child was going to turn out good, but I was wrong. A mother's job is to love, to nourish, to guide her child and to teach her child to guard his/her heart. Not in her own strength or wisdom but in the wisdom of the Lord and by His Spirit.
Growing up in a non-Christian home, I was lucky to have wonderful parents who did what they could to guide us but the fear of the Lord wasn't there. But I am saved. By God's mercy and grace, I can rely on Him and on His Holy Spirit to raise my children in a godly home.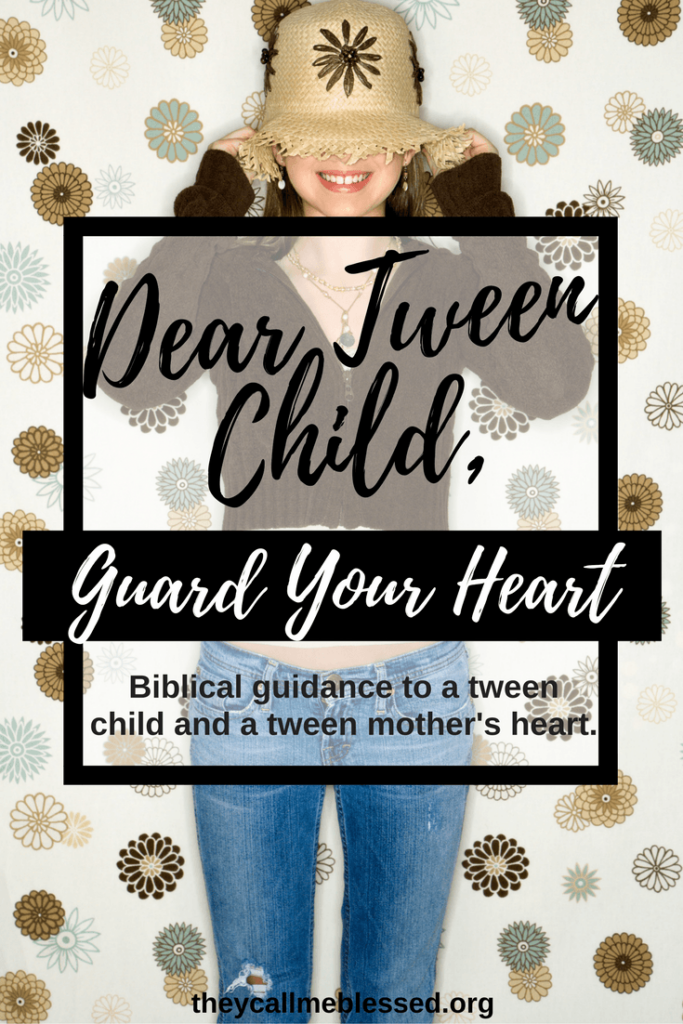 As a lay awake praying for my sweet 9-year-old child and his soon-to-be tween sister, I ask God to protect them and to keep them from the evil of this world, I pray they will not grow up in sin like I did. My prayers and my tears alone won't guard their hearts but God's Word will.
So in my prayer and agony, which only a mother knows the fears that come to our hearts regarding our children as we lay at night in bed, the Word of the Lord in Proverbs 4 came to my heart.
"1 Listen, my sons, to a father's instruction; pay attention and gain understanding.

2 I give you sound learning, so do not forsake my teaching.

3 When I was a boy in my father's house, still tender, and an only child of my mother,

4 he taught me and said, "Lay hold of my words with all your heart; keep my commands and you will live.

5 Get wisdom, get understanding; do not forget my words or swerve from them.

6 Do not forsake wisdom, and she will protect you; love her, and she will watch over you.

7 Wisdom is supreme; therefore get wisdom. Though it cost all you have, get understanding.

8 Esteem her, and she will exalt you; embrace her, and she will honor you.

9 She will set a garland of grace on your head and present you with a crown of splendor."

10 Listen, my son, accept what I say, and the years of your life will be many.

11 I guide you in the way of wisdom and lead you along straight paths.

12 When you walk, your steps will not be hampered; when you run, you will not stumble.

13 Hold on to instruction, do not let it go; guard it well, for it is your life.

14 Do not set foot on the path of the wicked or walk in the way of evil men.

15 Avoid it, do not travel on it; turn from it and go on your way.

16 For they cannot sleep till they do evil; they are robbed of slumber till they make someone fall.

17 They eat the bread of wickedness and drink the wine of violence.

18 The path of the righteous is like the first gleam of dawn, shining ever brighter till the full light of day.

19 But the way of the wicked is like deep darkness; they do not know what makes them stumble.

20 My son, pay attention to what I say; listen closely to my words.

21 Do not let them out of your sight, keep them within your heart;

22 for they are life to those who find them and health to a man's whole body.

23 Above all else, guard your heart, for it is the wellspring of life.

24 Put away perversity from your mouth; keep corrupt talk far from your lips.

25 Let your eyes look straight ahead, fix your gaze directly before you.

26 Make level paths for your feet and take only ways that are firm.

27 Do not swerve to the right or the left; keep your foot from evil."
As I meditated in this Word, I wrote this letter in my heart to my sweet tween child.
Dear Tween Child,
I love you too much not to share what I am about to with you. So please listen to my words carefully because they will save you from many mistakes and much suffering in life.
Above all else, guard your heart, for everything you do flows from it.
My child, The only way to guard your heart is by knowing and obeying God's Word.
"How can a young man keep his way pure? By guarding it according to Your word." ‭‭Psalms‬ ‭119:9‬ ‭TLV‬‬
I wish I had known this when I was your age. My life of sin started very early because I didn't have Godly parents who knew the Word to guide me. My heart wasn't pure and many times I stumbled on the way. I allowed the evil of this world to penetrate my heart and my mind.
Dear Tween Child, keep your heart pure!
Guard your eyes not to see evil things that will penetrate and corrupt your eyes. It is my duty as your mother to warn you to guard your heart and guard your eyes.
"Only be careful, and watch yourselves closely so that you do not forget the things your eyes have seen or let them fade from your heart as long as you live. Teach them to your children and to their children after them." ‭‭Deuteronomy‬ ‭4:9‬ ‭NIV
Dear Tween Child, guard your eyes!
What your eyes see will get into your mind and eventually it will make its way into your heart. Let what you see be good and praiseworthy. Let it be pleasing to your Heavenly Father. Keep your eyes open to God's wonders and shut to the evil of this world.
My greatest accomplishment in this life will be to see you "Love the LORD your God with all your heart and with all your soul and with all your strength." ‭‭Deuteronomy‬ ‭6:5‬ ‭NIV‬‬
Dear Tween Child, hear the Word, read the Word and write the Word in your heart!
When I have you copying Bible verses is because I know how much having it in your heart will protect you, guard you and guide you in your life.
I know sometimes your hands hurt from writing it over and over again. I know it could be tiring to memorize the same verse every day for a whole week, but it is for much more than just an Awana sticker.
Until the Word of God is written in your heart, I will take no rest. His Word is strong enough to keep you from falling when you are weak.
 "With my whole heart have I sought You —let me not stray from Your commandments. Your Word have I hid in my heart, that I might not sin against you." Psalm 119:10-11
Why do you need to guard your heart, dear child?
"The heart is deceitful above all things, and it is exceedingly corrupt: who can know it?" Jeremiah 17:9
Because your heart will play tricks on you. Your feelings and emotions can lead you to bad decisions and to sin. The devil will use emotions to confuse you and the desires of your flesh to make your fall.
But God's Word will be a shield to guard your heart against evil schemes in every circumstance. And the Holy Spirit of God will remind you of God's Word and whisper in your ears "this is wrong, don't do it". Make sure you listen to the voice of Truth. God's Word is Truth. His Spirit is the Spirit of Truth.
"However, when the Spirit of truth comes, He will guide you into all truth. For He will not speak on His own, but He will speak what He hears, and He will declare to you what is to come." John 16:13
Sweet Tween Child, I love you! Make sure you guard your heart at all times. I don't want to see you suffering.
My child, I only wish I had known these things when I was your age. I wish I had known the Word of God and the love of God to keep me from all the guilt, shame, and condemnation from my sin – but, dear tween child, you do. Run away from sin, run as fast and as far as you can for sin will only destroy you.
"For the wages of sin is death, but the gift of God is eternal life in Christ Jesus our Lord." Romans 6:23
Don't listen to your "friends" when they say they know better than your parents. They will be deceiving you. Just as you are, they are also young and have much to learn in this life. Remember that a real friend will bring you closer to Jesus, not away from Him and His Word.
"Don't consider yourself to be wise; fear the LORD and turn away from evil." Proverbs 3:7
Dear Tween Child, don't let God's Word depart from you.
"Do not let them out of your sight, keep them within your heart;" Proverbs 4:21
I promise to read you the Word and I will teach you God's ways. I will hold your hand and help you walk in His ways until you can walk on your own.
Seek His face first thing in the morning and let His Word be the last thing in your heart before you sleep. Meditate on it day and night and you will prosper in all you do.
God's Word will never let you down. You can always trust in Him! Jesus himself relied on His Father's Word to fight temptation and so can you. God's Word is your best weapon!
Dear Tween Child, I am here for you. I will never leave you.
When doubts, fears, and confusion comes to your mind, you can come to me and together we can look into God's Word to find what it says about it. The Word of God never fails and His Word will guide us both.
"Your word is a lamp to guide my feet and a light for my path." Psalm 119:105
You will never have to face anything on your own. Whatever life brings, God knows and will be in control of it. And because He knows all things, you can rest assured that His Holy Spirit will guide you through it. Cast your cares on the Lord and He will sustain you.
My dear Tween Child, God's precious gift to this mother, guard your heart!
I know one day all my prayers will be answered and I will see you becoming everything God created you to be. You were born to bring Him glory, to expand His kingdom in this earth and to make the name of Jesus famous.
Don't take less than the best God has prepared for you. Cling to His promises. Walk in His commandment. Shine for His glory.
With love, by God's grace, who enables me to raise you up for Him,
Mom.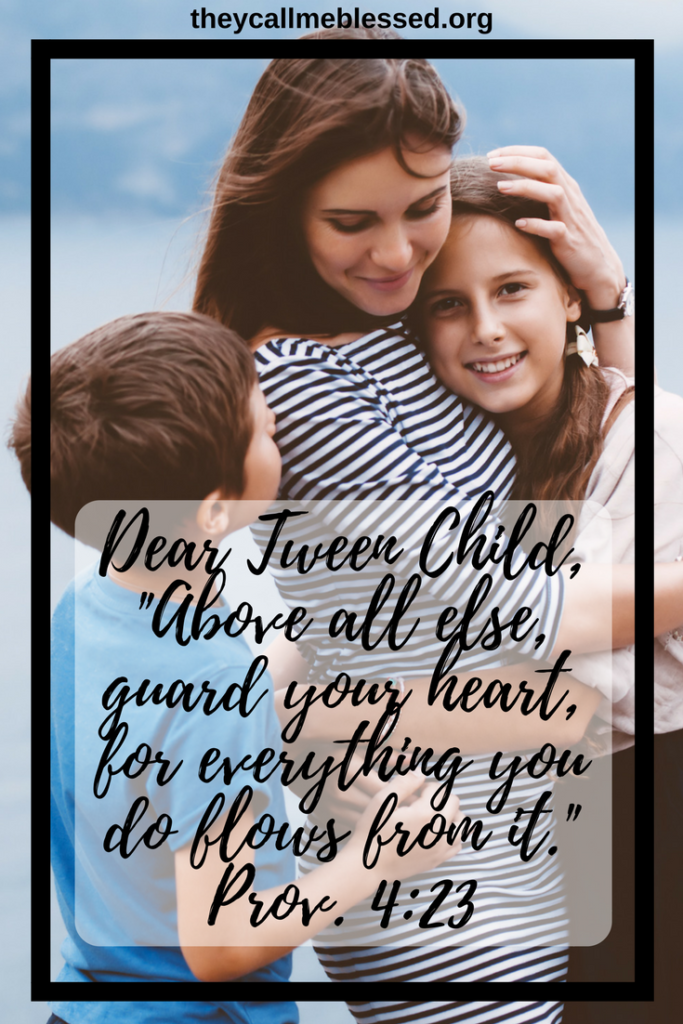 Does this post resonate with your heart for your tween?
Dear tween parent, you can download a template of this letter and personalize for your child by clicking here.
---
This was Day 28 of The 30 Days of the Tween Parenting Encouragement Blog Party!
What a beautiful letter for our tweens and such an encouraging reminder for our hearts as well. I found myself shaking my head in agreement with Ana as she works us through God's word -narrowing in on the importance of teaching our tweens to guard their hearts. Simply Incredible.
Ana Willis from They Call Me Blessed has created an inspiring and encouraging a community of busy homemakers like you and me, a.k.a MOMS!
It is a community of women who deeply desire to have a closer relationship with God and to serve Him, their family and their community better. The goal is to simply inspire, encourage and empower moms with:  Healthy Living – Homeschooling – Homemaking – Holy Moments
Ana shares: My hearts' desire is that every mom will find beauty in the ordinary moments of her life and be fulfilled in doing all God has created and called her to do.
Make sure to visit They Call Me Blessed  and join her in subscribing by email where she loves to encourage and inspire you in your journey! She's also available to connect on social media  Facebook, Instagram, Twitter, Pinterest, Periscope .
Download a copy of Ana's 10 Habits of a Highly Encouraged Mom Guide FREE here.
Don't forget to download your copy of the letter to personalize for your tween!
---
Did you Miss the other days?
Don't forget to sign up to have the party delivered to your inbox!