Normally, I let my children choose what they read. No biggie. I want to encourage a love for reading.
But at bedtime, if I'm the one reading to them, Mom gets to choose the book. No, they don't technically need me to read to them anymore. The thing is,  there are some books that NEED to be read. Besides, I like reading out loud so that we can also discuss the lessons and the things they may not have heard of before.
Why does it matter what they read?
Like everyone else, I want all of my children to turn out to be well-adjusted, caring, compassionate people. I want them to be comfortable with who they are and to know the value of hard work and wise decisions. I want them to know they can take their troubles to God in prayer any time they want, anywhere they want, and regardless of whether or not they feel deserving of that.
These two books are a powerful companion to help teach these values. They are both based off of real life people and real-life events, and neither of these books would have ever found their way into my boys' hands without my guiding them there.
Farmer Boy is part of Laura Ingalls Wilder's Little House series, and we loved all the books in this series. This particular book is unique in that it tells the story of Almanzo's childhood. It can be read completely apart from the other books in the Little House series.
What made this book so outstanding and useful for character development?
Almanzo grew up on a highly successful farm in upstate New York with his parents, a brother, and several sisters. This family farm was not successful because of luck. It was because of the hard work that the entire family poured into their home and their farm.
This book has story after story that shows the reader the power of hard work, the pleasure of working with your hands, and the benefits of honesty and obeying your parents. This is what made the book a home run to me.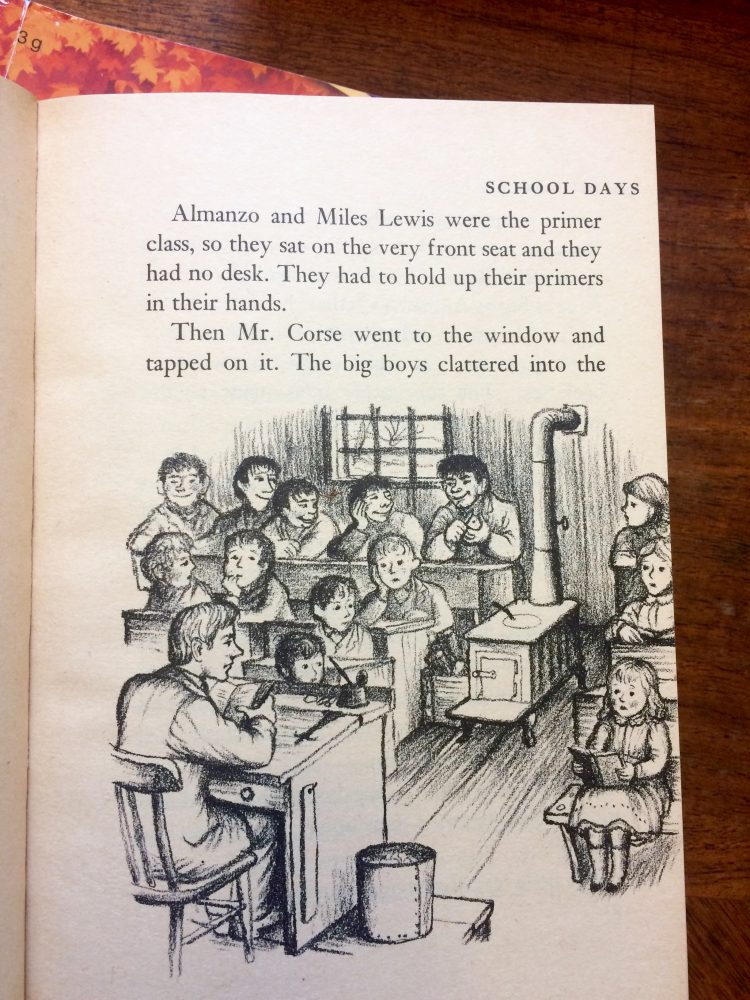 What made it a win for my boys
They loved the stories about dealing with mean older boys at school, stories of sledding adventures, and stories of Almanzo dealing with his brother Frank. There's also an exciting chapter where the parents leave town, leaving their children home alone for a few days.
The book is packed so full of adventures and lessons, it's hard to pick just a couple of quotes to share, but here are 2 to try to help me convey how awesome this book is:
I love this quote because it shows a little window into just how much the life of children has changed:
"Down a long road through the woods a little boy trudged to school, with his big brother Royal and his two sisters, Eliza Jane and Alice. Royal was thirteen years old, Eliza Jane was twelve, and Alice was ten. Almanzo was the youngest of all, and this was his first going-to-school, because he was not quite nine years old."
― Laura Ingalls Wilder, Farmer Boy
Almanzo was only just beginning school, at 8 years old, but he had been working harder than any of our children on his family farm.
This one is just firm, good sense:
"It's work, son," Father said. "That's what money is; it's hard work."
― Laura Ingalls Wilder, Farmer Boy
There are stories of them shearing the sheep, harvesting their grain, milk-feeding a pumpkin to win a county fair prize, and Almanzo's favorite, training horses. This book is an excellent reminder of how much children are capable of with gentle instruction and the right opportunities.
These days we spend so much time going to kids' sports games, which yes, promotes exercise, but also promotes a life of fun, which is not what adulthood is like. Almanzo learned to enjoy many jobs, which he could carry with him to adulthood. I found this particularly inspiring.
And some things never change…
"Mothers always fuss about the way you eat. You can hardly eat any way that pleases them."
― Laura Ingalls Wilder, Farmer Boy
#2. Secret in the Maple Tree
Farmer Boy was an easy sell for my boys. (I don't have any girls.) They were definitely not excited about this next one, Secret in the Maple Tree, by Matilda Nordtvedt.
They protested at first, but then they grew to love it.
Yes, in this book, the main character is a girl. Her name is Hilda, and she is one of the most real, relatable characters you will ever read. Almanzo in Farmer Boy was naturally a very well behaved boy. Hilda has to work much harder at it. This character is based on the author's mother-in-law, Mrs Ebertina Erickson Nordtvedt, the daughter of Norwegian immigrants, who migrated in the late 1800s.
Also, I have more good news. There's a sequel called Song of the Brook. I even just learned there's a THIRD book, Message of the Mountain, which I will be ordering right away!
Why this book is a must-read:
In this short novel, 141 pages, Nordtvedt covers healthy ways to handle getting a new mother, dealing with a bully, and unwanted changes. There are also stories of forgiveness, obedience, honesty, and dealing with sketchy strangers (in the form of a hobo).
My favorite thing about this book is that Hilda is again, so real, but she has learned to deal with her hardships by seeking refuge in the maple tree. In the maple tree, she has a place where she can climb onto a low branch and pray. She pours her heart out to God, and that's the biggest lesson I want my boys to take away from this book.
The bully story is a close 2nd. They struggle with Pete, who is violent and a thief through this whole book, and at the end, Hilda finds a way to make peace with him that will surprise you.
This book is a delight.
We always have a hard time putting it down each night. Here are a few quotes from the book.
"The new Mama laughed. "Nonsense," she said. "Of course we're not angry with you. We forgave you before you even said you were sorry."
I love that. Children need this love and security so badly.
"Papa bragged about the dinner after he had eaten, and patted Hilda's head, but even that didn't make Hilda happy. She looked at the dirty dishes on the table and felt sorry for herself. She hated washing dishes all by herself."
Hilda struggles with pity parties, as we all do, but she is constantly learning and becoming better and better and more mature. I'm telling you, she's the realest character ever to appear in a Christian fiction book, much like Laura from the Little House series, but sadder because she has experienced great loss.
"When Hilda climbed the tree, she told God about the pretty card, the birthday song, and about helping Miss Dahlen at school. She told Him about the cow's tail, too, but somehow she couldn't ask God to help her get even with Pete. She just couldn't."
And the story of how Hilda turns things around with Pete, the school bully who had ridiculed and stolen from her is b-e-a-u-t-i-f-u-l. But you'll have to read the book to find out!
What books do you recommend to help with character development? We'd love to have more good ones like these to read! Be sure to share your favorites in the comments.
 Happy reading!
---
Did you miss the other days of the 
Tween

 Parenting Blog Party? Check them out here!
---
You can find out so much more about April over on Stories of Our Boys where she shares a journal of her parenting journey: raising four little boys and aiming for sanity! She covers Faith, Being a Military Family, Parenting, Hilarity, Traveling and Blogging and more!
April is a mom of 4 boys and military spouse of 15 years. When she's not driving around town in her swagger wagon, you can find her blogging at Stories of Our Boys and Monterey Premier.
---