Raising Godly Girls: Teach Your Godly Girl to Pray for Natural Opportunity By Emily and Claire Musters 
*Today we have the privilege of reading a "faith lived out" Mother & Daughter post from my overseas friend Claire Musters and her lovely daughter Emily!*
Emily shares:
I have a friend at school who recently revealed to a selected group of peers that her mum has cancer.
I will call her Sophie, not her real name, to protect her identity.
I was honored to be one of the ones she told, as we never really spoke much to one another. However, I was concerned for her as she was a slightly stubborn girl who never confessed her feelings or shared with us how she really felt.
As time went on, I was told nothing more about her mum and began gently asking for more information. I had to make sure Sophie was okay. Also, I felt I needed to pray for her mum, and I couldn't do that without knowing what was going on.
She stayed silent, though, unwilling to give a further hint to less-close friends about the misfortune that had come upon her family.
I asked no more, and she said no more. But I knew she couldn't handle this alone. I prayed for an opportunity to speak to her, and one came.
I and a relatively small collection of my form members were walking to the front field and discussing the ages of our grandparents – a random topic I know. Gradually one person told of her aunt's illness, that had caused her to pass away. They had obviously gone a long way through processing this, because happily, they went off without another thought about the tragedy, running with everyone but me and Sophie to the middle of the field.
I could tell this passing comment about the aunt had affected Sophie's mood, so I asked, "How is your mum?"
She reminded me bluntly that she didn't speak to anyone except her mum about her feelings. But after a few minutes of silent walking, she gave away that she had found the whole experience horrifying, and that her mum (though still very ill) had just become cancer-free!
I was overjoyed and my enthusiasm encouraged her to speak up about other things that were on her mind. I learned more about her in the span of twenty minutes than I had the whole of the previous year.
Now Sophie greets me not with a half-smile but with a hug and a flurry of explanations about how life's been going for her.
I've learned that God always wants to provide opportunities when we pray for them and that His timing is best.
If we had spoken any earlier, her mum wouldn't have had the final operation and wouldn't have been cancer-free. It would still be too emotional for Sophie to open up.
I have gained a better friend and better understanding of God through this hard time.
– Emily x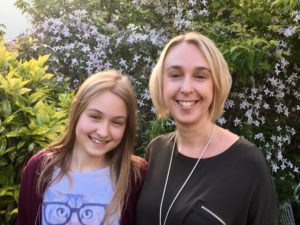 I am Emily's mum and just wanted to share things from my perspective.
Emily, now 12, started a new school last September, moving on from primary school to secondary without any of her primary peers. So she was starting friendships from scratch. And, while she knew she was ready to do so, she found it harder than she had expected to make friends initially.
The secondary school is a grammar one, which means they had to sit entrance exams to gain entry. A lot of the girls are Asian and Hindu, which means Emily is now in a minority as white British – which has not fazed her one bit. But she did discover that their backgrounds are incredibly different to hers and it took time for them to find common ground on which to build relationships. She has made some great friends now, and I am super proud of her.
She told me about what was going with Sophie's family. I immediately suggested she speak to her regularly and offer to prayer etc. But I soon learned that I needed to back off.
While I may have felt a hint of frustration, as I knew there was a great lesson to be learned. It wasn't right for me to be the one to teach it to her.
There was a time when Emily spoke about it again. I suggested we pray for an opportunity for her to speak to Sophie directly and she was happy for us to do so. She was super excited when she came back from school that day, having had the experience that she shared above. She was full of it, so excited to share with me 🙂
What that whole chapter taught me was that our children do have an active faith, do think about how to engage with their peers about that faith – and we can trust God to move in their everyday moments just as much as ours!
He reaches into situations and creates opportunities – and sometimes I'm just a meddling mum (with a caring heart of course!). There are times when I need to step back and let go: I can trust Him to show my daughter what it means to rely on Him…
– Claire x
What is something that you are being called to step back and let go of? Let us know in the comments so we can pray for you!
FOR THE BOY MOM
One of the huge challenges on the "boy side" of my life, has been to teach my son how to be both tough and tender – and not by the world's definition. I don't care one bit if my boy is considered a manly man or tough guy. Nor do I care if he is viewed as weak.
What I do care about is if he is growing into the man that God has created him to be. That man includes being both tough and tender.
Join Lee Felix of Like Minded Musings as she offers encouragement in key areas of focus and prayer in  Raising Godly Boys to be Tough and Tender.
Claire Musters is an author, speaker, and editor, mum to two gorgeous children, pastor's wife, worship leader and school governor. Claire's passion is to help others draw closer to God and be all that they can be in Him. Her latest books include: Cover to Cover: Ezekiel and Taking off the mask. Find out more about her at www.clairemusters.com