Are You Raising a Godly Girl?
She is the sweet baby girl you held in your arms.
She is the darling of your heart.
You wish to protect her innocence and keep her safe.
But Mama, a time comes when to do both, you need to have hard conversations with her. Discuss topics that make you uncomfortable or open her eyes to evil she cannot imagine.
Raising godly girls can be overwhelming.
Fortunately, God has given you LOTS of help!
The Bible has stories of rape, sexual immorality, lying, bad family relationships, unplanned pregnancy, bad friends, and bad choices. God covers them all carefully and modestly. He doesn't shy away from the difficult things – instead He uses plain, matter of fact language to clearly convey what is good and what is not. You can follow His example in how you go about teaching your daughter.
There are stories in scripture that I did not share with our girls when they were five. A five-year-old does not need to know about David and Bathsheba. There are other, age-appropriate stories that teach about theft and lying.  But, by age 10 or 11, each of my girls was ready to learn about that story. I just did so in a modest way, focusing on the lessons to be learned rather than the intimate details. Later in the teen years, we visited again with a more adult perspective. Song of Solomon can be handled the same way.
Today, I want to encourage you to give your daughter the knowledge she needs to be a strong woman when hard times come.
The women in scripture didn't arrive at "the woman to be imitated" stage in a moment. They did so in degrees, through years of study and living. Raising godly girls is no different.
The woman in Proverbs 31 BECAME that woman – she wasn't born that way. Your daughter will be served well if she is given the knowledge she needs in bits and pieces as she grows.
There are three women in Scripture I'd like you to consider – to think about teaching your 11-year-old daughter about.
These women are Tamar, the daughter of David, Jehosheba, and Mary, the mother of Jesus.
Tamar survived being raped by her half-brother.
Jehosheba was raised in an evil household yet changed the course of the nation for the better.
Mary was put into an embarrassing and difficult situation at a young age.
The one thing these three women had in common was a good knowledge of God's word and His promises.
Reading their stories might cause a bit of embarrassment or discomfort in the moment. But focusing on the women and what can be learned from how they responded to the situation will dispel any discomfort.
Tamar, the daughter of David
Tamar's story can be found in 2 Samuel 13.
Her story can teach your daughter
·        to be careful of friends who do not act in friendly ways (2 Sam. 13:3-5).
·        to compare the words someone says to their actions (2 Sam. 13:4, 11, 14-15)
·        that knowing God's will can be a protection even in the face of someone determined to do evil                                     (2 Sam. 13:12-13, 16).
Tamar was not weak. Amnon had a great struggle to accomplish his evil. Prepare your daughter with the knowledge to avoid such situations when she can, the confidence in God's will to use it wisely, and the strength to know the difference between her actions and those that were done to her.
Jehosheba
Jehosheba's brave act is told in 2 Kings 11:2-3 and 2 Chronicles 22:11-12.
Jehosheba was the daughter of King Jehoram of Judah, the wife of Jehoiada the priest, and the sister of King Ahaziah who was killed by Jehu.
Her father Jehoram was married to Athaliah, who was the daughter of evil King Ahab and Queen Jezebel. Athaliah brought all of Jezebel's evil ways over to Judah when she married Jehoram. This is the family Jehosheba was raised in.
However, she married Jehoiada the priest. Her choice in spouse indicates she is different than her family.
Saving the baby Joash from death by the hands of his grandmother, Athaliah, showed that Jehosheba was committed to living according to God's laws. She and Jehoiada raised Joash in the safety of the Temple for six years. As long as Jehoiada was guiding Joash, Joash "did what was right in the sight of the Lord" (2 Chron. 24:2).
The next 178 years of Judah's history is peopled with kings who were trying to serve the Lord to one degree or another, with only one exception, Ahaz.
Jehosheba defied the influences of evil people around her – even her family. Teach your daughter to know God's will well enough to make the right decision when those who might sway her are living for the devil. Teach her to be confident in the young woman God would have her to be, so she can face whatever trouble comes her way. Age is not the only factor – knowledge and confidence play a much greater part.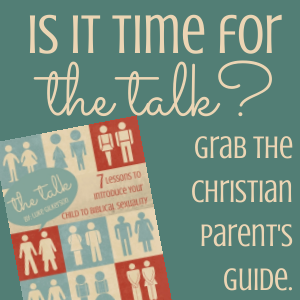 Mary, the mother of Jesus
Of these three women, her story is the easiest to read. If you will take the time to read through it slowly with your daughter – especially the first part, you will both find that Mary has much to teach women of any age.
Mary was a young woman, not yet married. When the angel Gabriel addresses her, he calls her "favored one". We can see in Luke 1:38 why she gained this favor. Her response to what Gabriel said was, "behold the handmaid of the Lord" may it be done as has been said.
While she didn't fully understand everything that was going on, she did understand the promised Savior and God's hand in these things. Her thoughts in Luke 1:46-55 show her knowledge of the scriptures and her trust in God Who keeps His promises.
Mary's knowledge and faith are what set her apart.
Mama, you have it in you to develop in your daughter the knowledge and faith that will set her apart like Tamar, Jehosheba, and Mary!
Take the time (Eph. 5:15-16).

Study together (Eph. 5:17; 2 Tim. 2:15); Acts 17:11)

Show her the light God shines on so many women in scripture (Ruth, Heb. 11:11, 31, 35; 1 Samuel 25; Esther; Judges 4-5).

Build her faith by showing all the times He kept His promises (Gen. 12:1-3, 7; Gen. 46:26/Num.1:45-46; Josh.21:43-45; Acts 2:29-36).

Show her that God is waiting to hear from her (Acts 17:24-28).

Show her that God has done all these things for her (Eccl. 12:13-14; Lk.12:32; Rom. 13:3-4; Titus 2:11-14).

Your young, sweet daughter will be protected by God's teachings – not harmed. She will be built up to a confidence that is not arrogant (Heb. 4:14-16).
Do not be afraid to take God's word, even the difficult stories, as things to train her.
Study them yourself first. Find the words that are appropriate for where she is now in her development.
All you need is your faith that God's word always works for our good (Eph. 2:10; Rom. 8:28, 31) and a diligent desire to share it with her any way that you can (Deut. 6:4-9).
"Teach the young women…" (Titus 2:3-5) begins at an early age and continues all her life. Teach the hard lessons now.
Enjoy!
If you'd like help in teaching some of these stories in ways that are appropriate for your tween girl, check out these resources for further study:
To Be a Handmaid of the Lord – a workbook written to encourage young women ages 11 – 16 to grow to be women of the Lord. Perfect for mom and daughter study time. The topics are appropriate for all ages, but this version has the tween/early teen particularly in mind. Add the Reproducible packet for a full year curriculum.
The following two series will take you through more than 80 different women in scripture. If you are looking to know the women in scripture better, these are an excellent place to begin. Companion study journals are also available.
31 Days of Women from Scripture Volume 1
31 Days of Women from Scripture Volume 2
ARE YOU A BOY MOM?
As a boy mom, it's not enough to teach our boys to work hard, be kind and responsible, productive members of society. Teaching them to respect women is our job too.
Tatiana of The Musings of Mum shares about a topic that is dear to her heart, which is Raising Godly Boys Who Respect Women. Don't miss this!  Get the details and encouragement here!
---
∞ About the Author ∞
Angela Legg has been married 23 years and is the mother of five daughters, ages 20, 19, 14, 9, and 7.
Her blog, The Diligent Woman, is a work of love to encourage other women to find the confidence they need for all that they do through knowledge of God's word. She shares bible studies on different topics for different ages as well as resources and encouragement for getting through every day as a Christian woman.
Angela loves homeschooling her daughters, teaching Bible classes, and spending time with family.